Decadence's Linage
(Ornament doing business as) Decadent Art is a jet-black and white, head-turning (16.3 hand) Piebald Stallion and has recently been imported from the Netherlands. Currently competing at 4th level, Decadent will easily move up to P.S.G. and has qualified to compete at Dressage at Devon, a premier North American Equestrian Show and world class dressage competition.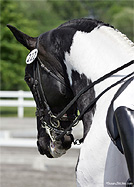 His impressive coloring, combined with outstanding lateral movements, extended gaits, and powerful strength make this stallion truly eye-catching in the show ring. His terrific disposition under saddle, and being extremely well-mannered all around make him a true joy to work with, and a true winning combination.

As a Dutch Warmblood, Decadent Art (Ornament) is registered with the KWPN and the International Heavy Warmblood Horse Association (IHW) with approvals in both Breeding and Sport Horse categories. His character shines through with a sound and gentle mind. Not having been inbred, his temperament has remained calm and obedient. His body type and large bone structure allows for solid legs and strong knees to withstand rigorous, competitive sports. The original Heavy Warmbloods built large and strong were used as working class horses. They now have been bred to meet the standards for successful sport horses.

Decadent Art is sired by Samber, whose influence is proving to be the most successful of any colored sire this century. His name is synonymous with colored performance horses. Throughout Europe and the USA, many of Samber's son's and grandson's are tremendously successful sport horses. Art Deco, also sired by Samber, has competed successfully in Grand Prix Dressage, Hunters, Eventing, and Jumpers here in the US. Other well-known successful Samber sons include Sabertino, Sambucco B., Sinclair B., Hall of Fame, Fine Art, Pie in the Sky, and Eros, just to name a few.
Samber received a rare 10 for temperament and trainability in Holland. Samber competed very successfully through Grand Prix Dressage and at the Z levels jumpers. Samber has been in the top 15 for producing dressage horses in Holland (out of over 400 stallions), and in the top 100 for producing jumpers.

"Decadence" by Decadent Art - 2009 KWPN Pinto Colt will be available for breeding next year for 2011 Season.